Enabling a Meaningful Work Environment

 
A Meaningful Work Environment

 
Creating a meaningful workplace is becoming more and more important to employers. When employees are engaged in a meaningful work environment, they will feel more motivated and satisfied. Ultimately, this will lead to an overall increase in productivity and quality of services. Employers should be conscious of the dynamic they are creating in the workplace through their leadership choices. There have been many studies conducted on best practices for making a more meaningful work environment. Listed below are a few ideas of how to create a more meaningful work environment. 
Create a Shared Goal

 
Employers should make it a point to make sure all of their employees are on the same page about their organizations' shared goals and outcomes. Creating a higher purpose will give employees daily motivation. It will also keep employees connected. Having a shared goal can decrease conflict within the work environment. When everyone is working for a common purpose, collaboration and cooperation may come much easier. The shared goal should be known by every employee in the organization, regardless of role. This goal should be connected to the overall impact of the company on the larger society. 
Reinforce Prosocial Behaviors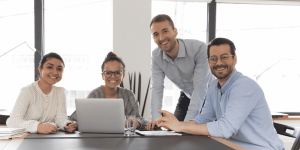 Prosocial behaviors are behaviors that support others. In the workplace, this can look like giving "kudos" to someone on work performance, collaborating successfully, and stepping in when needed. If an employer places prosocial behaviors as a priority, employees are more likely to make prosocial behaviors a priority. When prosocial behaviors are a part of the everyday work environment, people tend to enjoy going to work more. When employees have the "it's not my job" mentality, tension or division may be created. Employers should find ways to incorporate prosocial values into a reward system. Some organizations choose to incorporate them into evaluations, yearly rewards/bonuses, and even mentoring programs. 
Prioritize Mental Health

 
Mental Health is beginning to come to the forefront of workplace jargon. Depending on your industry, your employees' mental health can directly impact their career performance. Organizations are beginning to see the importance of mental health, and its role in it. Employers should brainstorm ways to positively add to their employees' mental health. Employers can provide extra breaks, less workload, and even more vacation time if possible. Some organizations even offer a stipend for a gym membership. Every company is different, but the employees' mental health should be the main concern no matter what. 
If you are finding you need some extra reassurance, contact our office here.