Post Traumatic Stress Disorder, or PTSD, is a mental health condition triggered by a traumatic event that is either experienced or witnessed by an individual. The event is perceived as too overwhelming and terrifying, and causes symptoms that affect one's normal way of life. PTSD is often misdiagnosed or dismissed by healthcare professionals. This is the reason why many people with PTSD are usually untreated. 
Symptoms often vary from person to person, but usually develop immediately after the trauma. However, they can also develop years later. As a result, people are often taken by surprise with smothering and irrational emotions. Consequently, significant problems occur in all areas of life. In addition, they profoundly interfere with our daily activities and peace of mind. PTSD affects people of all ages. 
The Past Revisited
PTSD is characterized by constant and painful memories of the traumatic events of the past. This includes:
Intrusive and distressing flashbacks of the traumatic experience

Frequent and recurrent nightmares about or relating to the trauma 

Paralyzing fear when confronted by a situation similar to the event. These situations are referred to as "triggers" which can be visual or auditory triggers.

Reliving and re-experiencing the terrifying ordeal
Emotional and Behavioral Changes
PTSD is also characterized by negative thoughts and emotions that cause negative changes in mood and behavior. This includes:
Mood swings, anxiety and depression

Feelings of hopelessness and a negative outlook

Irrational fear, phobias, and distrust of people


Lack of interest in social activities

Problems maintaining close and intimate relationships

Detachment with friends and family

Avoidance of anything that can be a reminder of the trauma

No concrete plans for the future 

Easily startled and chronic nervousness

Irritability and aggression

Suicidal thoughts
Physical Changes
Insomnia or poor sleeping habits

Anorexia and loss of interest in food

Inability to focus or concentrate, leading to  poor academic and job performance

Chronic aches and pains

Medication abuse

Substance abuse

Lack of energy 

Regression in children by bedwetting and tantrums

Not all traumatic experiences lead to PTSD. This depends on many factors such as age, severity of trauma, and coping abilities of the individual. Many associate PTSD with war veterans. However, this condition has expanded in modern times. It is now a worldwide phenomenon that affects millions of people in a variety of ways.
These traumas of the mind and body result in powerful emotional episodes in those with PTSD. Furthermore, these events are usually life threatening and something rare. The rarity of the event creates trauma that enters deeply into the psyche. The events range from accidents, to natural disasters, to wars, witnessing a crime, or being a victim of a crime. 
PTSD in Victims of Crime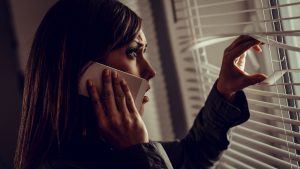 There is a much higher incidence of PTSD among victims of crime. Moreover, researchers looked at 80 different types of disasters and compared severity of trauma from them. Not surprisingly, mass violence was the most traumatizing of all. Consequently, 67% of people exposed to mass violence developed severe trauma. Natural disasters usually cause a slightly higher amount of trauma (42%) when compared to technological disasters (34%).

According to the PTSD Alliance, the estimated risk of developing PTSD among crime victims are: rape (49%), physical assault (31%), sexual assault (23.7%), shooting and stabbing (15.4%), and witnessing a murder (7.3%). Studies also show very high rates of PTSD among children. As a result, 100% of the victims of parental homicide develop PTSD. In addition, PTSD forms for around 90% of sexually abused children,  77% exposed to shootings, and 35% exposed to community violence.
PTSD in Crime Offenders
PTSD is often used to as an insanity defense for a crime offender. But this is rare, as these types of defenses are difficult to win. Insanity pleas have a high failure rate and account for only 1% of criminal pleas in the United States. Furthermore, out of that 1%, only 25% successfully get an NGRI verdict (Not Guilty by Reason of Insanity). 
An NGRI states that a person cannot be held criminally responsible if the act was committed because of mental disease. Meaning, the offender isn't of a sound mind during the criminal act. For this reason, PTSD is highly criticized as a defense for crime. However, a few successful cases exist.

The Role of A Forensic Psychologist
Forensic psychologists apply their knowledge to criminal behavior in order to accurately assess a case. Therefore, bridging the gap between psychology and law. It is the application of psychological principles in the legal world. A forensic psychologist evaluates PTSD in offenders and victims. They are highly trained in psychological assessment and forensic evaluations. 
Crimes, disasters, and tragic events do not discriminate. They can happen to anyone. And when they do, the consequences are life changing. Oftentimes, survivors are left to deal with the aftermath on their own. As a result, anxiety, depression and even rates of suicide can increase. If you or a loved one is a victim of crime or a traumatic event, please get help before it is too late. Forensic psychologists can provide counseling and therapy for victims of PTSD. 
Sources:
Post Traumatic Stress Disorder
Forensic Examinations And PTSD
PTSD Within the Forensic Arena